Chris Francescani, founder and chief pilot of Sunset Beach Films, is an FAA-certified remote pilot and an FAA Safety Team representative on Long Island. He's been flying drones and writing about the industry (for the  Wall Street Journal, Reuters, The Washington Post, ABC News and NBC News) for more than a decade. Prior to launching Sunset Beach Films, he spent years in broadcast television and other news outlets as a reporter for ABC News, NBC News, CBS News, Reuters, The Washington Post, Wall Street Journal, New York Post and the Southampton Press West.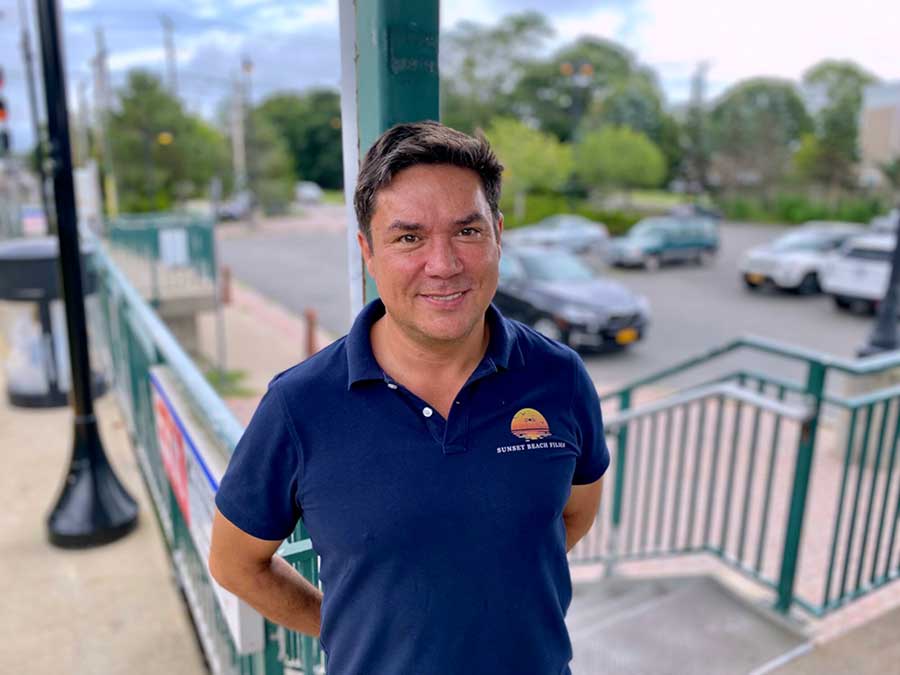 Maria Stefanopoulos
Maria Stefanopoulos is a four-time Emmy Award winning Senior Manager of Operations at ABC News for Good Morning America. She is passionate about using new technology to enhance storytelling for journalists and to provide GMA viewers with the most compelling and captivating vantage points possible. Stefanopoulos was responsible for the production of GMA's 2015 live drone coverage over the erupting Bardarbunga volcano in central Iceland. That same year, she also managed the production and live drone produced GMA's "Hidden Worlds, Son Doong" show, from uncharted terrain in a place where there's no map of a route – inside the world's largest cave system hidden deep in the jungle of Central Vietnam. Her recent live productions included using the latest drone technology to chronicle a daring team of elite ice climbers venture down into a vertical ice drop in the Breidamerkurjokull glacier in Southeast Iceland, where researchers and scientists study formations to understand how the ice melts and sweeps into the ocean. She also led the GMA team on another epic drone expedition to Ngorongoro Crater in Tanzania, where 2 drones and 3 other cameras were launched on a mission to highlight animals near extinction. Her crew of drones came face to face with lions, elephants, hippos, ostriches and rhinos, all in their natural habitat. Her extensive experience with drones has taken her to Iguazu Falls in Argentina and to Victoria Falls in Zimbabwe, where she live drone-produced and managed the production of multi-hour live broadcasts using drones in extreme conditions.
Ben Miller
Ben Miller is a leading pioneer in the field of using small unmanned aircraft for public safety. He is currently the director of the Colorado Center of Excellence for Advanced Technology Aerial Firefighting, which leads research and development in the use of drone technology for firefighting and other public safety issues for the Colorado Department of Public Safety.
Miller began his career with the Mesa County Sheriff's Office, where he founded and led the nation's first public safety drone program among non-federal U.S. law enforcement agencies. A past member of the board of directors at the Association of Unmanned Aerial Systems International (AUVSI), Miller has flown drone missions over armed gunmen, reconstructed accident scenes, conducted search and rescue missions and led wildfire management missions.
His expertise has been sought by prestigious organizations—such as the National Aeronautics and Space Administration, the Federal Bureau of Investigation, the United States Secret Service, the United States Department of Justice, and the FAA's NextGen Institute—and numerous other entities in the unmanned aircraft systems space, including academia and industry.
Ben has also held advisor positions on five startup UAS related companies and spent 2 years working for Draganfly Innovations who began building multi-copters in 1999.
Tim Motz
Tim Motz is a veteran Suffolk County media and communications specialist with deep roots on Long Island's East End. A former award-winning reporter for the Southampton Press, Tim has served since 2016 as director of communications for the Suffolk County Water Authority and the New York State Central Pine Barrens Commission. He previously served as a legislative aide and press liaison in the Suffolk County Legislature before becoming speech writer and deputy director of communications for the Suffolk County Executive. As special assistant to the Suffolk County Police Commissioner – who oversees one of the largest forces in the nation – Tim designed, built and managed the police department's first civilian-led public information office. He currently writes a column for the Southampton Press, "Stories from the South Fork", and he and his wife, Kim Covell, are partners in the strategic communications firm Molehill Media.
Fred Kamel
Fred Kamel is president of Accommodations Plus International, the global leader in crew and work force accommodations and technology solutions – managing lodging and ground transportation for more than 27,000 individuals at dozens of leading airlines worldwide. API's automated systems reserve more than 10 million rooms annually at 600,000 properties across the globe, and the leadership team at API has adapted its platform to meet the needs of cruise lines, sports teams and rail companies. Through its advanced business intelligence software solutions and multi-disciplined team, the company lowers the total cost of accommodations and logistics to its clients, while providing an attractive distribution channel to its hotel partners.
Chris Cassidy
Chris is an Emmy award-winning cinematographer and photographerwith more than 20 years experience, who specializes in documentary-style storytelling to a wide range of clients – from Fortune 1000 companies to tech start-ups, indie musicians, Grammy award-winning bands and more.
He recently directed the documentary, DENNIS AND LOIS, a film about the legendary rock n roll 'super fans', which premiered at DocNYC in November 2018 and was featured in The New York Times. Chris was also the Director of Photography for SIDE BY SIDE, a documentary about the science, art, and impact of digital cinematography produced by Keanu Reeves. Prints of SIDE BY SIDE are in the permanent collection of MOMA, Academy of Motion Picture Arts and Sciences and the George Eastman Museum. He also recently won an Emmy for his participation on a documentary short called OUT OF THE SHADOWS, produced by Newsday and was His short film, DEAR BARBRA won the Grand Prize at the MTV World Aids Day Film Festival.
Alexa Glockner
Alexa Glockner is one of Northern California's most accomplished real estate brokers. A veteran professional with nearly two decades of experience in the nation's top markets – including New York City, Greenwich, CT., San Francisco and Sonoma County – Alexa has worked for Corcoran, Sotheby's International, McGuire Real Estate, Compass and now Hedge Realty, which she founded with partner Tim Little. An early adopter of drone technology, Alexa has worked for years with some of the West Coast's finest drone cinematographers to capture the beauty of the region's most refined homes and properties.